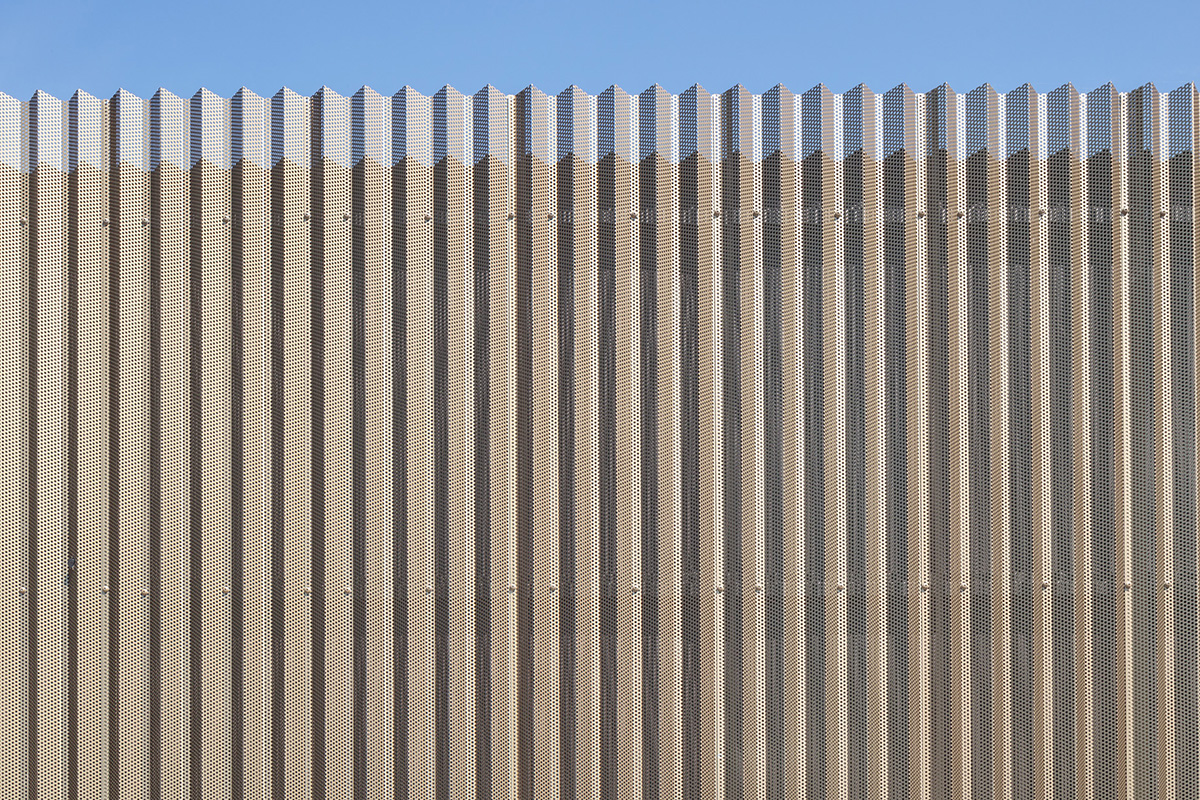 With the new building in the year 2022, "Villas Martinets 42", six spacious flats with a view of the Fribourg Alps were created. The ventilated metal façade from Montana gives the building a filigree exterior and at the same time ensures durability and low maintenance.
Architectural concept: Two differently oriented, distinctive houses are arranged on a hillside plot and connected to each other via a common, partially subterranean base. The gap created between the two volumes serves as a joint and common entrance area. The first floor slides over the ground floor, creating a large terrace with unobstructed views of the foothills of the Alps on the south side and a cantilevered car canopy on the north side that integrates the parking spaces into the structure.
Typologies: Following a strategy of soft densification, the plot will be occupied by two 4.5-room maisonettes, two 4.5- or 5.5-room attic flats and two 2.5-room flats. A new interpretation of the typical single-family house typology of the area will be developed. The three-storey buildings enter into a dimensional dialogue with their surroundings, the entrances to the flats from the ground floor are independent and they have private garden areas and parking spaces. Terraces, loggias and large window fronts provide plenty of natural light in the flats.
Façade: Like our body, a space needs a boundary, a skin, and it must harmonise with the interior. A ventilated façade made of perforated aluminium profiles encloses the two buildings and makes it possible to filter the view and light between the interior and exterior spaces while still giving the striking geometry a filigree appearance. The monolithic appearance of the volumes is reinforced by the perforations and recesses in rectangular format. Since they are not adjacent to the perforated sheeting, they give the building a different appearance by day and by night and create bright interior spaces. The anodised aluminium surface ensures long building life, colour fastness and reduced maintenance. At the base, the dark façade gives a base to the two upper vaults. Metal slats cover the façade in the opaque areas and run in front of the glazed parts to give privacy to the rooms.
The façade of the building is made of 685 square metres of MONTAFORM® Design Jagged MFD Z 35-5/440 A in the colour "Colinal Bronze".
Client: Apodis Immobilier SA, Villars-sur-Glâne
Facade builder: Ray SA, Givisiez
Architect: Atelier d'architectes Charrière-Partenaires SA, Granges-Paccot