Visit us at the Baumuster-Centrale in Zurich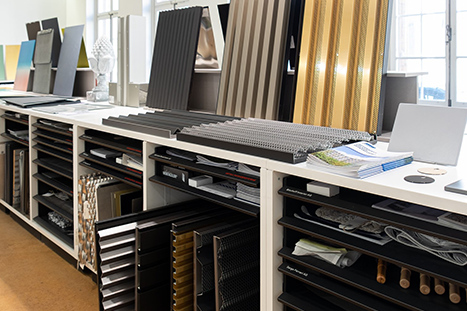 At a central location in the heart of Zurich, a well-coordinated team of experts and an excellent infrastructure are available to visitors all year round. The Schweizer Baumuster-Centrale (SBCZ) imparts knowledge, experience and enjoyment of the subject matter.

The well over 2,000 large-format, up-to-date exhibits with additional information are also available for all visitors to borrow. The SBCZ is thus a comprehensive material library that can be used by all interested parties.

Since 1 April 2021, our product samples have also been on display at the Schweizer Baumuster-Centrale. The material samples are located in and on the white carcasses.

All samples are photographed and can be found at www.baumuster.ch. Labels attached to the samples contain information on product names, materials, properties, etc. The printed QR codes can be scanned with a mobile phone to obtain further information and links to reference projects. Furthermore, various brochures, colour samples and a reference book are available for you.
We hope you enjoy!